In his article we'll walk you you through the best practices for coding contact records in Firefish.
In this article we'll walk you through the best practices for coding contact records in Firefish.
In the General Details tab, you'll find general information about the contact; like contact details and Owner. For business development purposes it is important you have Name, Employer, Phone and Email complete at the least this will enable you to send marketing materials through the many different methods on Firefish.
It is important to note that you must complete the marketing subscriptions when adding contacts. If you don't this, you will miss out on available business development tools in Firefish.
Tags
In the general details tab, you have the option to add tags to your contacts which makes it easier to search for contacts with specific terms. For example; this can be used to mark contacts as potential hot or cold business prospects.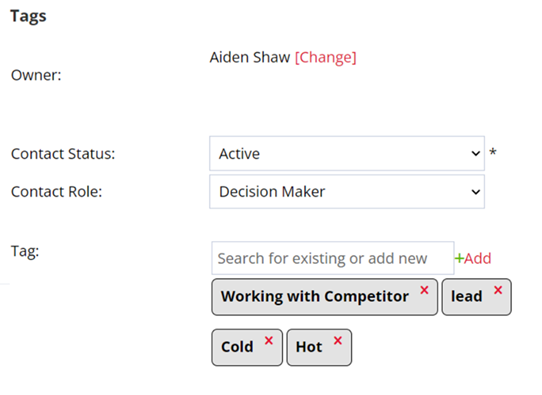 You will also see the dropdown options called Contact Status and Contact Role; these are options which can be further used when creating a contact search. You can also change the dropdown options to suit your business needs in the Dropdown settings.
Hiring Preferences
Hiring preferences is used to help build a detailed picture of what your contacts look for in candidates to the finest detail. This will enable you to provide and spec out the best matched candidates on your database to your contact increasing the quality of your business development output.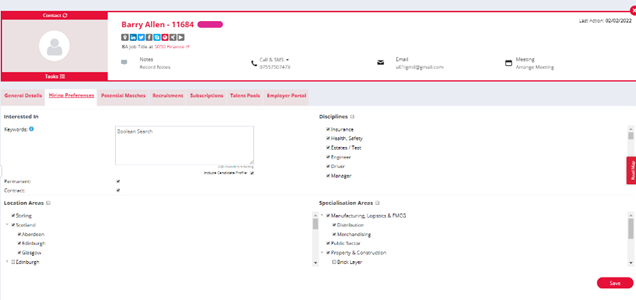 Use filters like Disciplines, Locations and Specialties. You can also use the Keywords field, which uses a Boolean search just like the one you use in the candidate search.
Once you have a contacts Hiring Preferences coded correctly you will then start to see candidate who match these details in the 'Potential Matches' tab.
From here you can send out CV's on spec and consider them to jobs which this contact has live. For a candidate to appear on a contact potential matches list it is essential that the candidate preference tab to also be completed correctly as this will determine which Potential Match lists the candidate appears on.
You might also find the follow article helpful when it comes to business development and using the contact record: