Check if you can use the Email Add-In feature
Which Email Add-In you utilise for Firefish will depend on which type of email server you utilise - check below for the details on all:
Microsoft 365
The Outlook Add-in is compatible with Microsoft 365 products.
The add-in can be used with Outlook for Microsoft 365 (Windows), Outlook for Microsoft 365 (Mac) and Outlook on the Web.
To check which Outlook version you are currently using, go to Outlook > File > Office Account. Your Office version will appear under Product Information (see screenshot below). Click About Outlook to find more information about your Outlook version.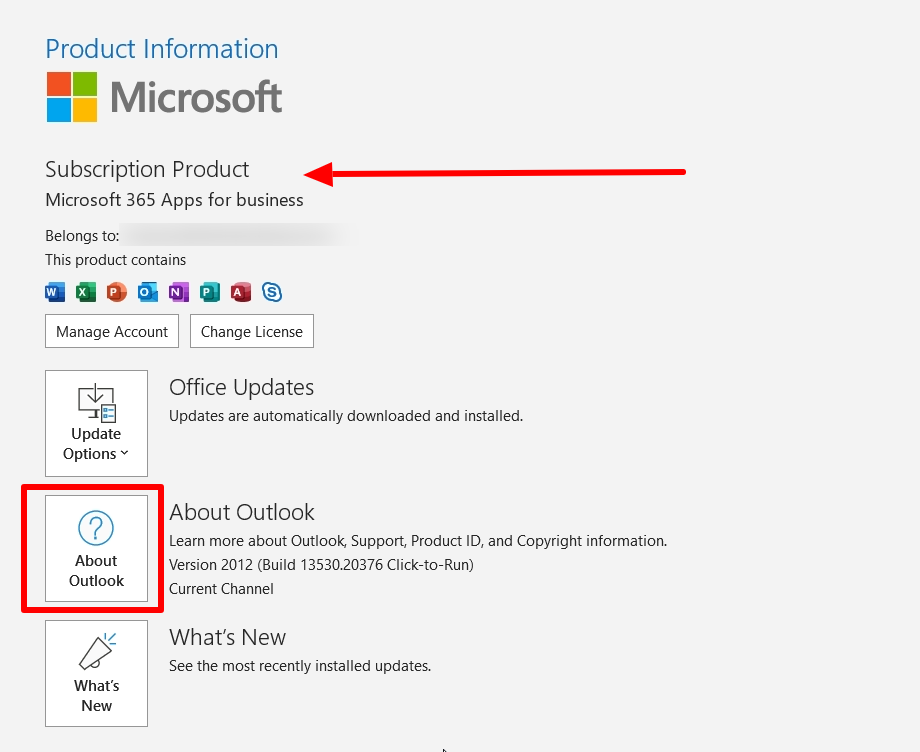 You can install the Outlook Add-in directly from Microsoft App Source or by following the instructions on this page.
Please note that the supported products listed on the AppSouce page are not fully accurate and we're currently awaiting Microsoft updating this list to reflect the above information.
Gmail Add-In
Our Gmail Add-In is only available for usage for users who are utilising Gmail Email Servers and are accessing their inbox through the Gmail online Inbox.
If you are utilising a Gmail server but accessing your emails through another software such as Outlook, unfortunately, the Outlook or Gmail Add-In would not be compatible. This is as Microsoft restrict access to the Add-Ins to 365 users only - The only way for a Gmail server user to access an Add-In would be directly through the Gmail Portal.
SMTP Email Servers
If you are utilising a Custom SMTP Email server, unfortunately, you would be unable to utilise a Firefish Email Add-In.
Our Add-In's are built to the specifications of Gmail and Microsoft - SMTP servers that utilise Outlook to access emails would be unable to install the Firefish Outlook Add-In as access to Add-Ins has been restricted by Microsoft to 365 users only.