Set up and manage SMS for using in Firefish
You can send SMS messages to candidates and contacts in your database directly from within Firefish.
This means you can send out individual messages to people whilst working in the database or even use this to easily bulk message candidates for marketing.
Replies to these messages can also come straight back into your Firefish Dashboard. Here's how to set your SMS up.
Firefish SMS
Super Users can set up texting by going to Settings > Integrations > SMS Settings.
Click Request next to the Firefish option to request to use Firefish as your SMS provider.

We'll be in touch to enable Firefish SMS within our standard SLA timeframes.

For details on SMS credits check out the SMS Packages page.
You can also choose whether you would like to be notified by email when you receive an SMS response and set your SMS delivery attempts limit.

Firetext SMS
You also have option to use one of our SMS partners, FireText - you'll need an account with them first to use the bulk texting feature.
To set up your account, simply call Firetext Support on 0800 038 55 22 or send them an email and they'll get everything you need in place!
Once you've got your FireText account set up, go to Settings > Integrations > SMS Settings then click Enable next to FireText:

Enter your Username and Password provided by FireText and a Profile Name (for internal use):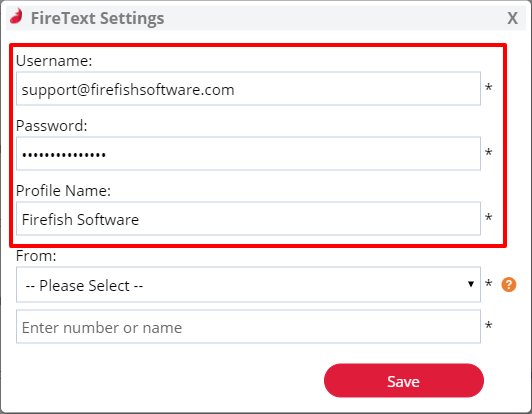 You now have three options when selecting who the message has come from. This can be:
Provider Number: if you want to see replies to your message in Firefish, you must use the reply number supplied by FireText. If you haven't purchased a reply number, you can choose either Company Number or Company Name
Company Number: if you enter a company mobile number, replies will go straight to that mobile phone and you won't see them in Firefish
Company Name: entering your company name will mean that recipients know who the text is from straight away! However, they won't be able to reply directly to the text so if you want them to do so, you should include another number in the message content.
Select provider number, company number or company name then enter the number you'd like replies to go to, or the name you'd like to appear on your message. Please note that the maximum number of characters that can be used in the number or name field is 11: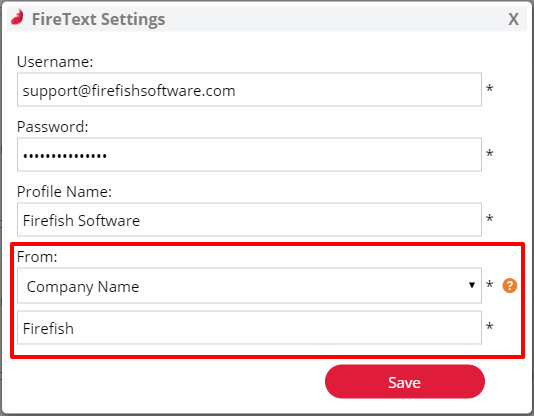 Click Save, and your settings are now in place!
FireText status updates can be found here:

https://firetext.statuspage.io/
Once your settings are in place check out how to start sending SMS.