How candidates can use the Candidate Portal

---
The Candidate Portal allows Professional and Enterprise users to give candidates access to a portal where candidates can do the following actions themselves:
Update their profile and CV

Update their compliance details

Update their communication preferences (email marketing, SMS and job alerts)

Update their their reference details and give permission for them to be contacted
Any changes candidates make to their profile, references or preferences will be reflected in your Recruiter Portal, allowing candidates to keep the data you hold on them up-to-date and correct.
The Candidate Summary within the candidates Profile tab is visible in the Candidate Portal as well as the Recruiter Portal; so make sure there's nothing you wouldn't want them to see in this field. The Recruiter Summary on the candidates record in the Recruiter Portal will not be visible to candidates.
Whenever a candidate uploads a new CV via their portal, this will be recorded as a CV-Upload action on the candidate's record, within the Recent Activity.

Creating a Candidate Portal login
Candidates can create a Candidate Portal login by registering on your website or applying to an advert you have posted. An existing candidate can also create one by using the website's Forgotten Password page.
Any information Candidates add in their Registration or their Application will be pulled into their Candidate Portal.
If candidates have registered, you'll be able to see them as new within the New Candidates Quick Link. Advert Applications will show here and on your advert.
Recruiters can create a Candidate Portal login by selecting the Portal tab on the candidate's record and then Create Login.

Sending Candidate Passwords
You can send an existing Candidate Portal user a temporary password by selecting the Portal tab of their record and then Send Password.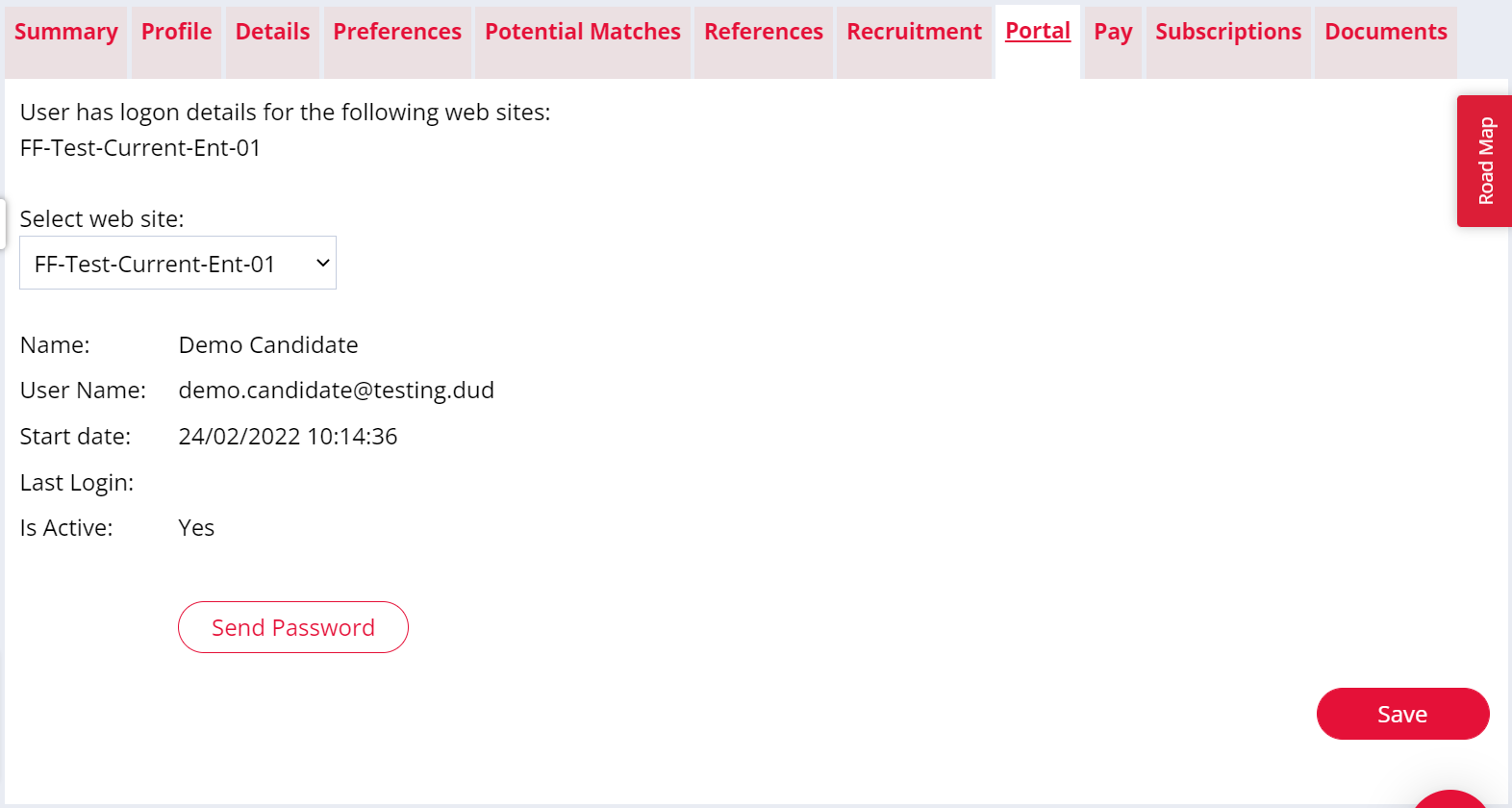 Candidates can set their own password:
during the Candidate Portal registration process

when applying to an advert

by using the website's Forgotten Password page

from the Candidate Portal
My Profile section
On the My Profile page of the Candidate Portal, Candidates can edit all the details of their profile, with any changes being reflected in your Portal.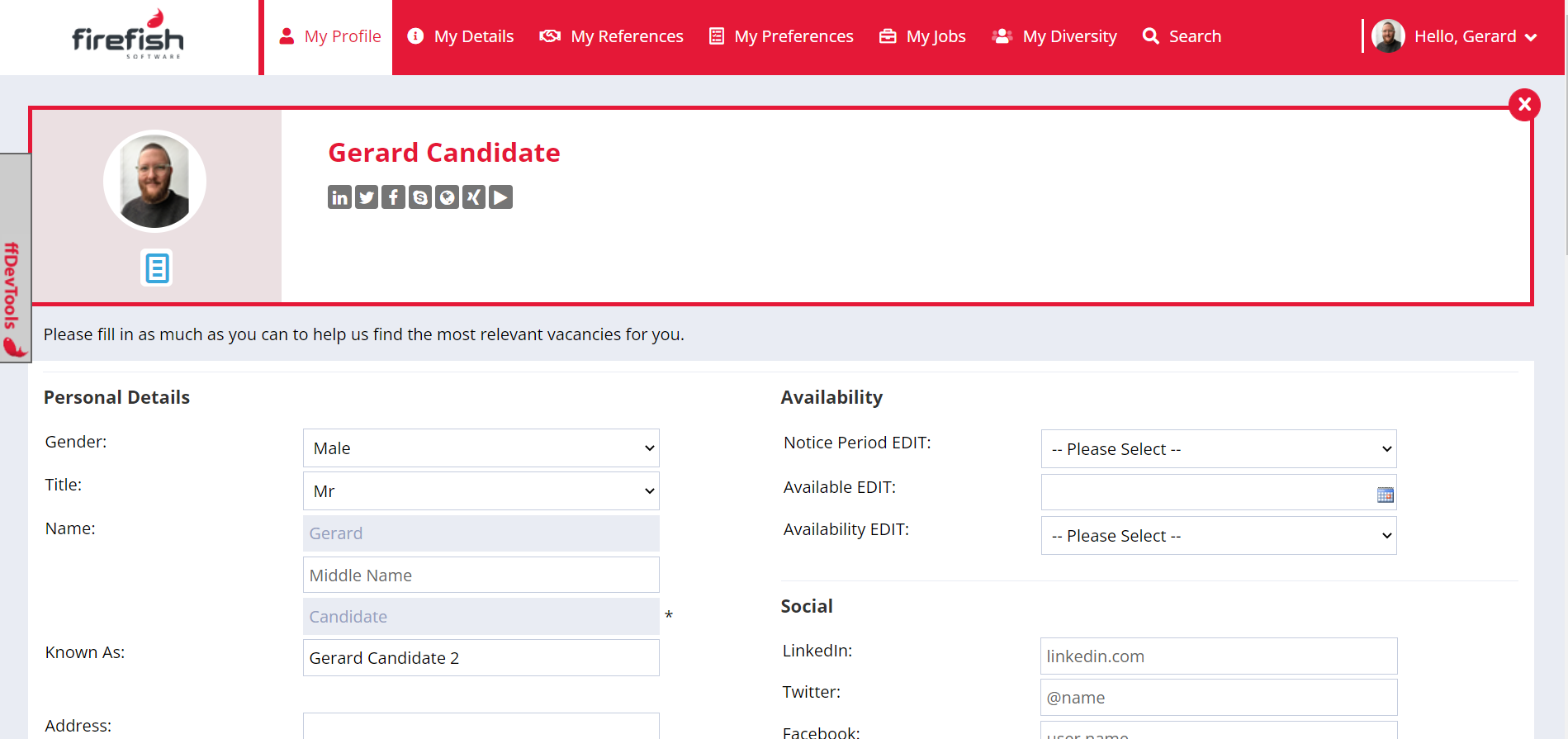 My Details section
The My Details section allows candidates to update their Compliance Details.
The Compliance Details are the same details recruiter users can complete on the candidate record and this allows candidates to fill in these details and attach any required documents such as industry certifications or proof of address.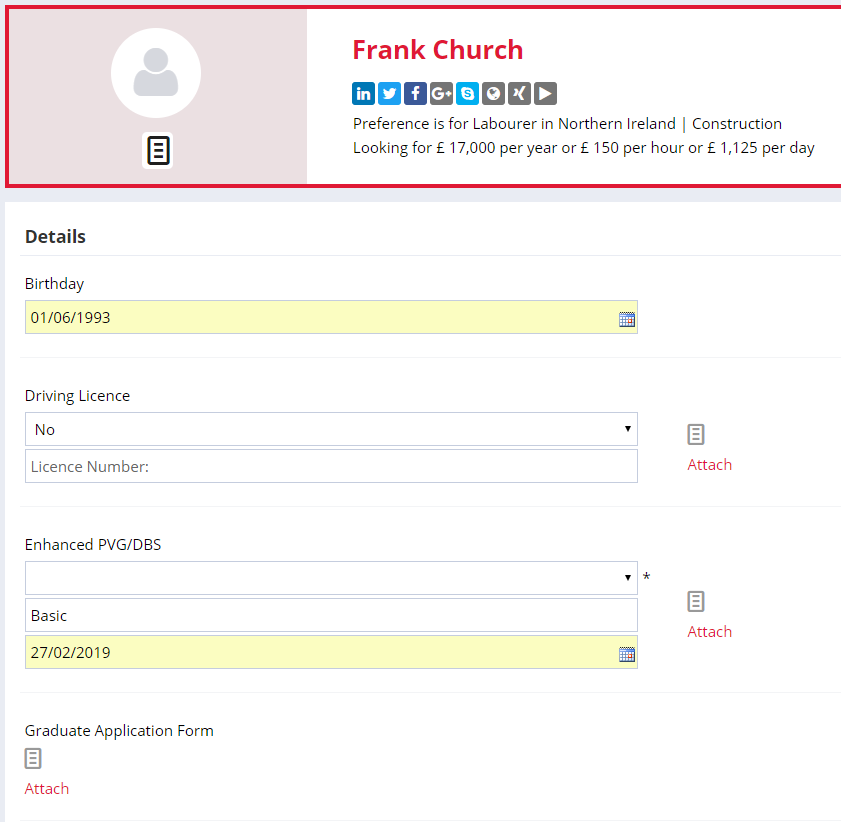 My References Section
This will allow candidates to fill in their referee information and also notify you that their references have given their consent to be contacted.
What they won't be able to do, which recruiters can do is:
View auto-fill information in the reference data fields

View the reference documents
'My References' will be disabled by default for all clients but can be enabled by a Super User.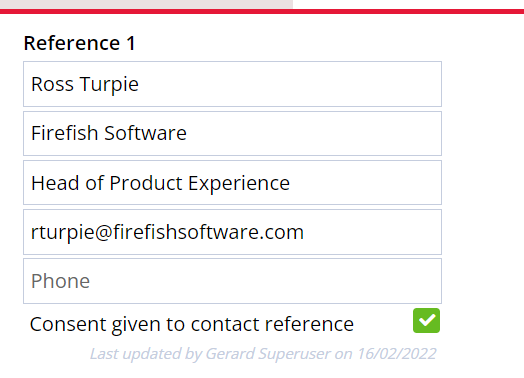 My Preferences section
My Preferences in the Candidate Portal works exactly as it does on the Recruiter Portal - Candidates can update their preferences on a self service basis and update their preferences if anything changes.
They can send themselves preference based Job Alerts from this page also.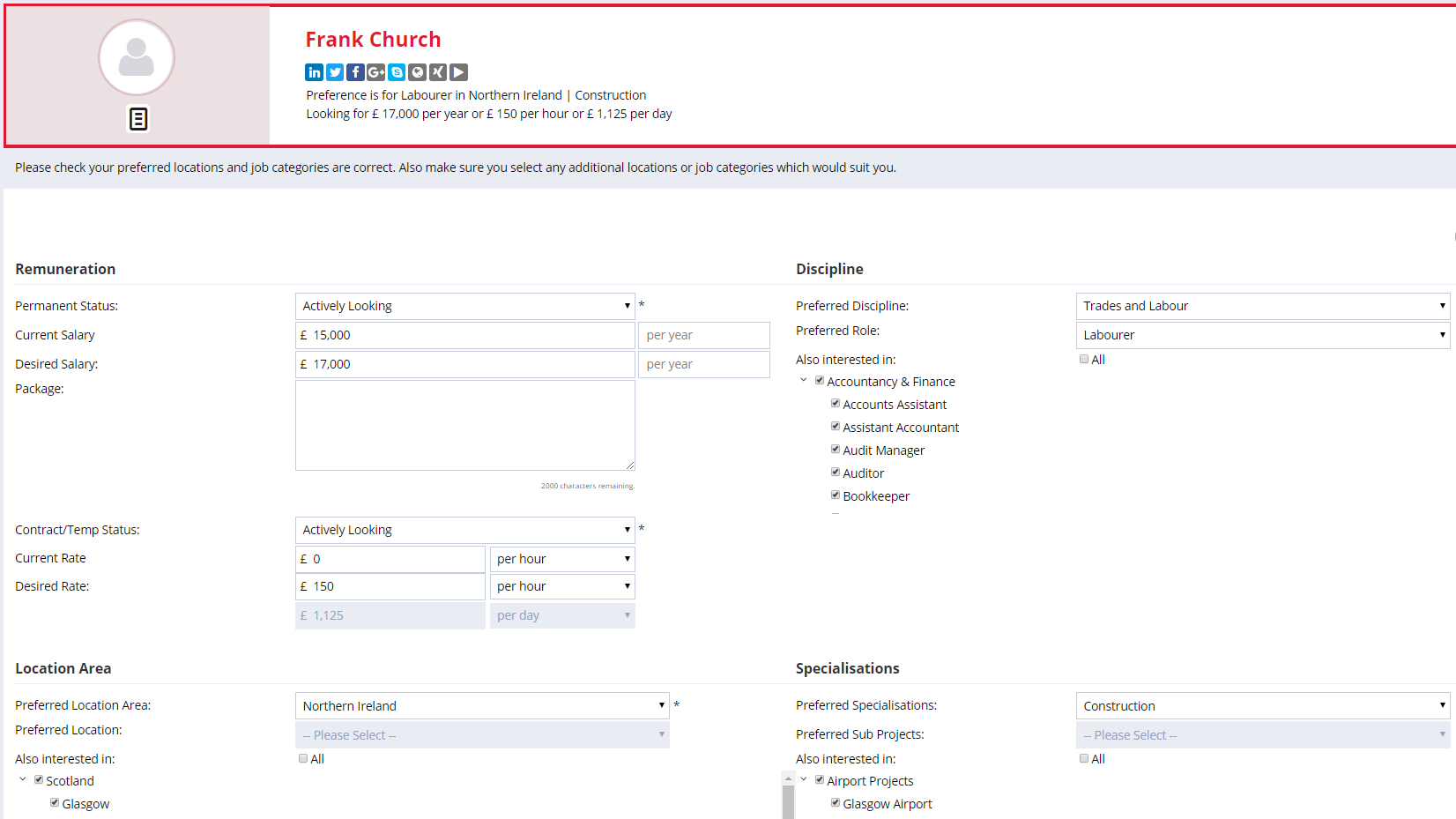 My Jobs section
The My Jobs section shows candidates a list of the jobs they have applied and been considered for by your users - this replicates the Recruitment tab in the Recruiter Portal.
Candidates can use this tab to review previously applications and also get real time statuses on their current applications.

My Alerts section
The My Alerts screen allows candidates to select the Job Alerts they are subscribed to and also update their email and SMS marketing preferences.
The candidates can subscribed to Daily, Weekly or Monthly Job Alerts based on the preferences they have selected or even build bespoke Job Alerts tailored to the positions they would like to see.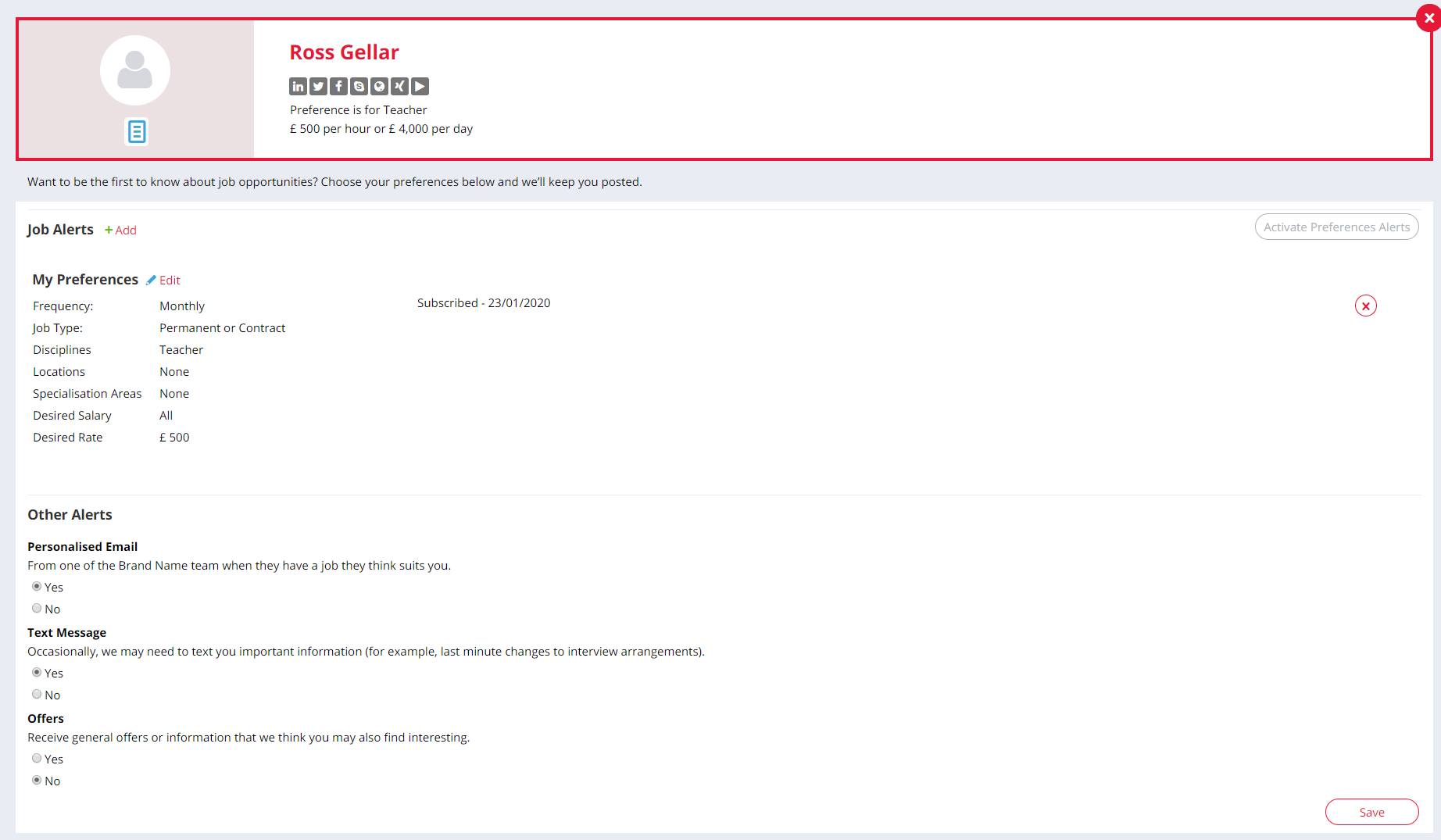 My Diversity section
The My Diversity tab will allow candidates to complete your Diversity Monitoring form.
The information they place here will be visible to them however this will not be shown on the Candidate record within the Recruiter Portal as it is anonymised.
This will only show if Diversity is switched on - If you would like more details on the Diversity Monitoring functionality check it out here!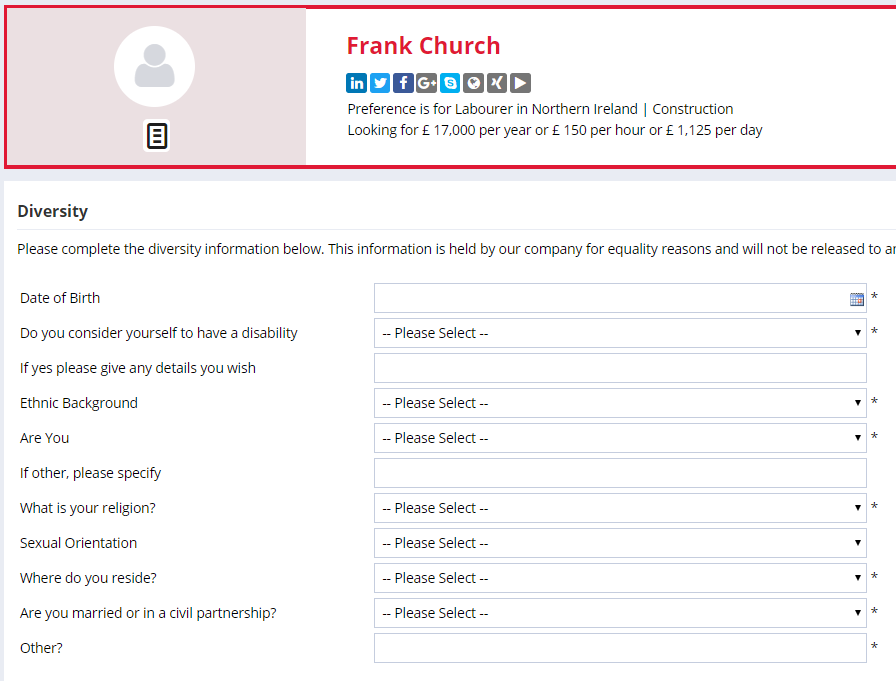 Using the search page
The search page will show the candidate the current jobs you have open, and allow them to search on the same parameters with are available on the main job search on the site.
They will be able to apply straight from this section and can also set up alerts and share the adverts with friends.